AstroBoomers: To The Moon! Review
Ready for an interstellar adventure? You may not be, but we'll embark on this mission and keep you updated with our discoveries. You're not alone. This adventure is conceived as a multiplayer game that lets you choose your team and conquer the space together.
Theme & Graphics
The graphics department looks astonishing, and the theme will sweep you off your feet. The entire composition looks astonishing, and the effects bring a combustion of energy that can completely annihilate the boredom. With a space theme, you can disconnect yourself from Earth and earthy endeavours and dream of an interstellar adventure in which you are the main character.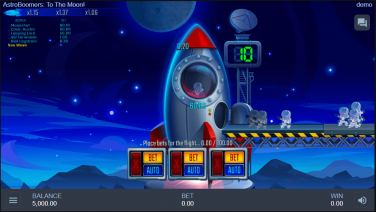 That's not a singularly thrilling experience provided by Spearhead Studios. There are plenty of adventures to be enjoyed for fun, but these are our suggestions: Knights of Fortune and Cold Gold.
Astro Boomers: To The Moon RTP & Volatility
Astro Boomers: To The Moon, RTP hits a value of 97%. The twist comes with a volatility; they say that the volatility it's up to players. We've tested it, that's why we have to tell you that the volatility seems really high, that's why we advise you to be really cautious. 
Astro Boomers: To The Moon Symbols
Astro Boomers: To The Moon doesn't present a range of symbols; it's a unique creation in which you will not see reels, rows or paylines. The play screen is reserved for three groups with a bet and an autoplay option, you just have to set your bets and watch the rocket flying.
Astro Boomers: To The Moon Bonus Features
As we've said previously, Astro Boomers: To The Moon presents itself as a unique interactive slot that doesn't compare to previous slot experiences. You will not encounter regular bonus features playing this slot, but the interactive layer may be taken as an addition. You can stay onboard, enjoy it for fun, with your fellow astronauts and see who's rocket will conquer the space.
How to Play Astro Boomers: To The Moon
Astro Boomers: To The Moon is definitely not your usual slot. At first glance, it may seem really peculiar. You will not see a regular playground with reels and rows or paylines, but a funfair game in crash style in which you will help astroboomers to escape to the moon. This crash game has the capacity to gather communities of like minded players and bring a pinch of innovation.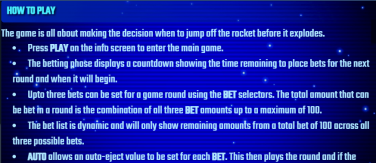 You'll be projected in outer space, and three groups of bets will be present in front of the screen. With these groups, you have to work, you can set a regular bet value, or opt for the autoplay option, and you have to be really quick.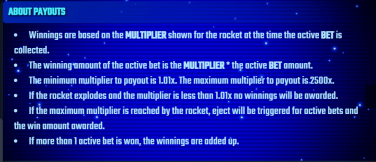 From this point, after setting your bet, you will watch a rocket flying. The rocket comes with a screen that shows the value of your win. If there's no win involved, the rocket will explode, and you'll be redirected to the initial game. 
Astro Boomers: To The Moon Big Win
You can definitely enjoy this slot for fun with your friends, the odds are that you'll have a satisfying session of entertainment. If you want to play Astro Boomers: To The Moon, you have to be extremely cautious if you're thinking of trying it with real money, because the volatility may inflame your budget. If you are curious about the value of the highest prize, know that it goes up to x2500 of the initial bet.

Verdict
Astro Boomers may seem like one in a million adventure if you love playing games with your friends. Traditional slots hold an individualistic approach, but Astro Boomers: To The Moon lets you share your joy with other slot fans. We are impressed by the theme and graphics integrated into this interstellar slot, overall it may not be an exploration for slot fans who love traditional goodies and have a fixed set of preferences, but it's a perfect experience for those who enjoy new challenges. 
Astro Boomers: To The Moon Free Spins No Deposit Bonus Offers
Some players may want to fly high; others may wish to remain with their feet on the ground. The interstellar collection of free slots available on SlotsCalendar fits an interstellar range of preferences.
If you like to keep your head in the clouds and above, you may want to be the next Astro Boomer, and the Astro Boomers: To The Moon free spins no deposit bonus offers may rocket your adventure.
If you're a casino gaming enjoyer, the range of free slots may be enjoyable too, but remember that you need an account to have access to them. Last but not least, play responsibly and try to avoid risky moves that can affect your budget!