A divine slot generates an incomparable experience, but above all, it knows how to excel through bonus rounds and visual composition. Maybe there is more to say about a divine slot, but we will find out if Divine Fortunes manages to take us to heaven with what it has to offer.
Theme & Graphics
Divine Fortune integrates a truly divine visual composition. The statues, the play of lights, together with the mythological influences create an atmosphere in harmony with the theme inspired by Ancient Greece. And the overall experience is incomparable with other slots within the same thematic area.
We do not know if we can talk about divine gains, but the visual composition exceeded our expectations through the integrated elements and the induced atmosphere.
If you want to experience more slot games proposed by NetEnt, we can offer you these recommendations: Rome The Golden Age and Druids 'Dream.
Divine Fortune RTP & Volatility
Divine Fortune RTP presents a percentage of 96.59%, and this value is combined with an average volatility.
With this rapport, prizes will have decent values, and opportunities to score a winning combination will not be as rare as in the case of a high volatility. However, to make sure you don't risk it, you might want to give it a few rounds in free play mode.
Divine Fortune Symbols
The range of thematic symbols includes Medusa with a minotaur, a lion, and an eagle, and the highest value goes up to 600x for a combination of 5 winning symbols.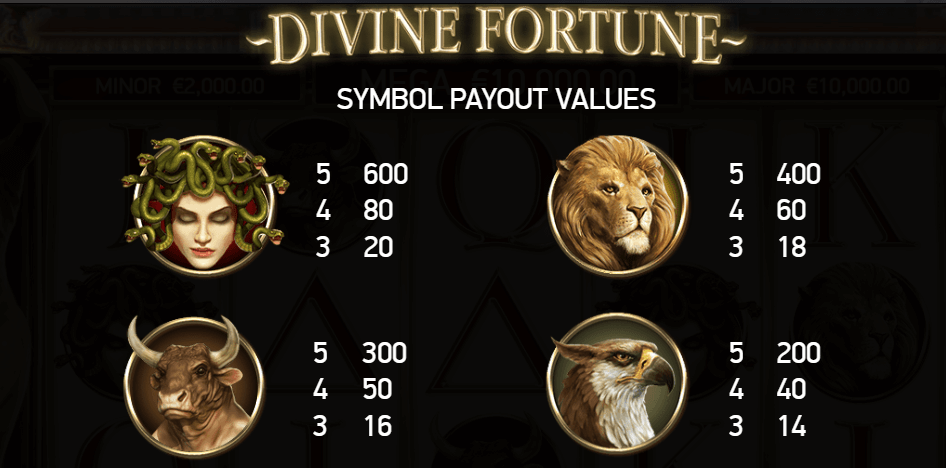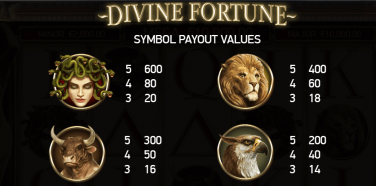 The selection of special symbols includes a wild, a scatter, and a bonus symbol. Finally, the range of symbols is completed by royal cards that go up to 80x for a winning combination of 5 symbols.
Divine Fortune Bonus Features
Falling Wilds Re-Spins: Each time a wild symbol is involved in a winning combination, this symbol changes position and a respin round is activated.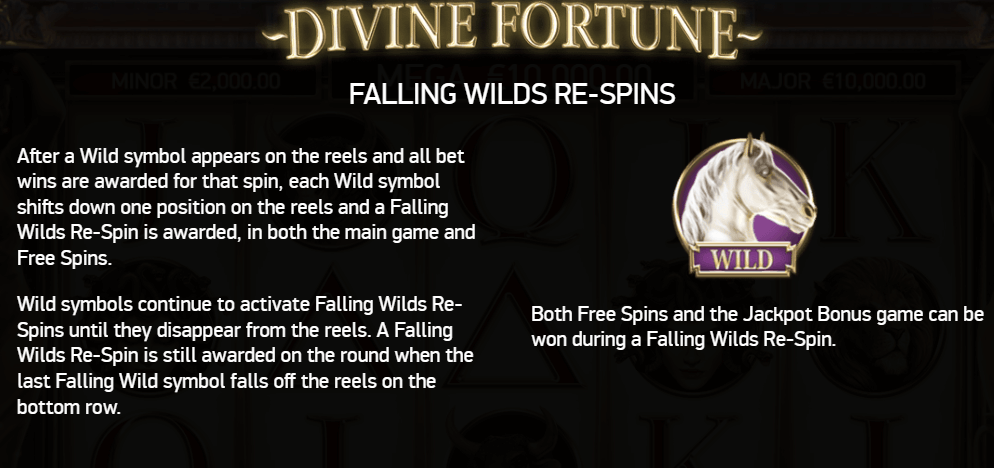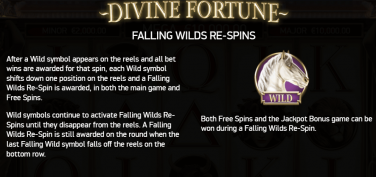 Wild on Wild: In the base game and during the free spins rounds, each time two wild symbols line up, the wild on wild round is activated.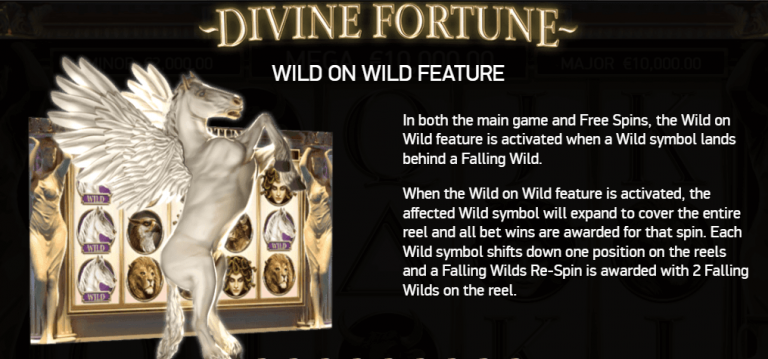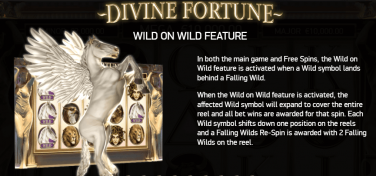 Divine Fortune Free Spins Feature: This round is activated by at least 3 free spins symbols. Three free spins symbols will offer 5 free spins, while 5 symbols will guarantee 12 free spins.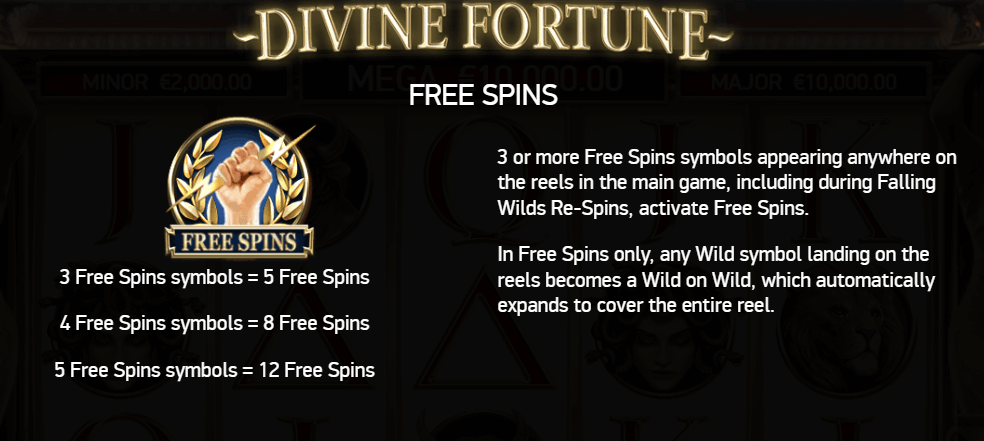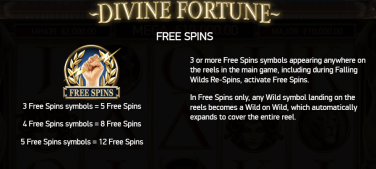 Jackpot Bonus Game: This round will be activated by at least 3 bonus symbols in the base game. In these bonus rounds, the prizes offered strat from 10x and the mega jackpot goes up to  200x of the initial bet.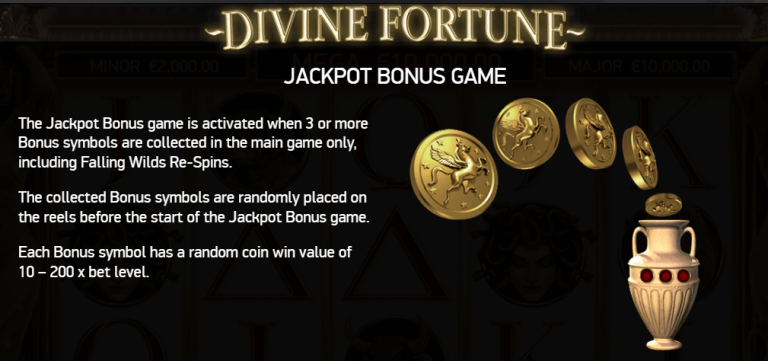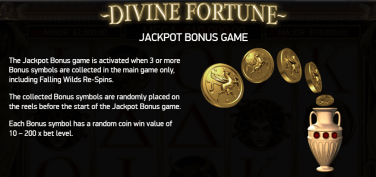 How to Play Divine Fortune
You can always enjoy the experience provided by Divine Fortune in free play mode, you just have to set the bet level and press the spin button. Before giving it a go, in the info section, you will find all the details you need, along with the paytable, details on bonus rounds, and a graphical representation of the pay lines.
Divine Fortune Big Win
Divine Fortune presents a progressive jackpot, so there is no maximum win set in advance. So far the major jackpot was about €500,000, but you can't dream of such winnings, it's much easier to dream of a risk-free entertainment session.
Verdict
Divine Fortune offers a unique experience that propels you into a fantastic dimension with mythological influences. The setting is excellent, your eyes will be satisfied without doubt, and the fun is guaranteed with such an abundant range of bonus rounds.
With Divine Fortune, we don't know if you will have divine luck, but the whole experience is divine if you are looking for a unique slot, therefore, Divine Fortune deserves a 10 out of 10.
Divine Fortune Free Spins No Deposit Bonus Offers
A divine slot can only be accompanied by a tailor-made bonus, and with Divine Fortune free spins no deposit bonus offers provided by premium casinos, the fun is propelled to another level.
Divine Fortune is not a singular divine experience, in the free online slots section, you will find an abundant range of premium slots for sessions that meet your expectations.