Divine Lotus Review
We don't know how zen you can be playing Divine Lotus. If you are only looking for material gains, you may not be so calm and positive. Still, if you are looking for fun without banknotes, immersing yourself in the Divine Lotus dimension, you could be as calm and peaceful as a Buddhist monk.
Theme & Graphics
With a fantasy theme and a tailored design, the Divine Lotus slot can bring a touch of daydreaming to your entertainment session. The theme blends perfectly with the vibrant and fantastic shades that dress the visual composition.
With Divine Lotus, your eyes could have a pleasant, or even divine, experience. In any case, this slot composes a relaxing atmosphere for any player-oriented towards a zen session.
If you want to be happy with the experiences offered by Thunderkick, we can offer you these recommendations: Crystal Quest Arcane Tower and Pyramyth.
Divine Lotus RTP & Volatility
Divine Lotus has an RTP of 96.14%, mixed with a medium volatility. This rapport is acceptable for a satisfying round of entertainment, the winning combinations will not be so rare, this slot promises 4,096 ways to win, and the prizes will have decent values. Even though we're not dealing with a high volatility, you still have to play responsibly!
Divine Lotus Symbols
In the range of special symbols, this slot presents a quite attractive selection that includes a wild that replaces all symbols that are not included in the special segment, a scatter, and a mystery lotus symbol.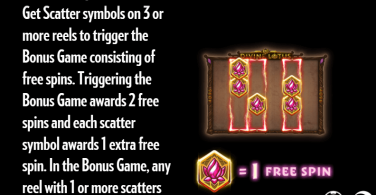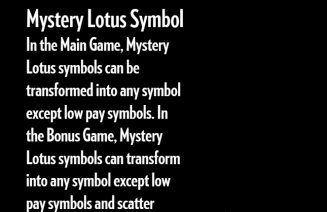 The category of thematic symbols is also quite attractive, being composed of a series of fantastic elements. In this register, Divine Lotus includes plenty of baby dragons in various colors, and the highest value is reached by the big dragon that rises to 10x for a winning combination of 6 symbols.
Divine Lotus Bonus Features
Bonus Game: Divine Lotus offers a free spins feature that is activated by at least 3 scatter symbols. The number of awarded free spins will be based on the number of scatter symbols on the grid. It is good to know that this round binds to the progress bar, as the lotus flowers add up, the progress bar will increase, and each level reached will provide a bonus spin.
Mystery Lotus although they are just symbols, they have several superpowers, so we can treat them as a Divine Lotus bonus feature. In the basic game, these mystery symbols can take the form of any symbol, while in the bonus game the mystery symbols metamorphose into valuable symbols.
How to Play Divine Lotus
If Divine Lotus looks like your slot, you just need to set the bet value, press the spin button and see where the magic of this slot can take you.
Before you try it, in the left corner you will discover the menu button. Here you will find two sections, the first will give you the rules on the base game, and in the second section, you will discover details about the special symbols, the bonus rounds, and the paytable with all the symbols.
Divine Lotus Big Win
With the Divine Lotus online slot, you can have a satisfying experience without earning material gains. Your eyes will be delighted, and the energy will not be missing through the bonus rounds with which this slot delights its fans. However, if you are curious about the grand prize, find out that it amounts to 8709x from the initial bet.
Verdict
We don't know if it's a divine slot, but if you're looking for a special session, a relaxed experience that will stimulate your imagination, Divine Lotus may be the right choice!
Although it induces a calm atmosphere, it will not be boring, because it includes an attractive selection of bonus rounds through which the game becomes more dynamic and induces more energy, therefore Divine Lotus deserves a 9 out of 10.
Divine Lotus Free Spins No Deposit Bonus Offers
When you want to relax but can't reach the spa, on SlotsCalendar you have at your disposal the huge collection of free slots for deep relaxation!
If you need a zen moment, with Divine Lotus Free Spins No Deposit Bonuses Offers provided by premium online casinos, you can have it!