Bali Vacation Review
If you're stuck at home and dreaming of an exotic vacation, with this slot you can dream better, or we hope so. We have to delve further into this exotic vacation to see if it's worthy of your time.
Theme & Graphics
With the theme integrated into the Bali Vacation game, you'll be transported to the airport of your dream destination.
The view seems promising, unfortunately, the graphics department didn't reach its full potential. The play screen is pretty small, and many elements are fading in the background, but this slot is mainly conceived for mobile players, and for them, it may be perfect.
If you would like to try more experiences provided by PG Soft, we can offer these suggestions: Crypto Gold and Reel Love.
Bali Vacation RTP & Volatility
Bali Vacation RTP reaches a percentage of 96,71%, and this value is mixed with a high volatility. With this rapport you can expect an unpredictable and wild vacation in which the chances of hitting a prize are pretty rare, that's why you have to be really cautious and play responsibly.
Bali Vacation Symbols
Bali Vacation online slot integrates premium symbols depicting elements that inspire a nice and exotic vacation. In this register, we encounter a free spins symbol depicted as tickets, and a wild symbol portrayed by a mask.
The list of symbols integrates a local character, a tourist, and three frames with exotic settings, and when it comes to values it's good to know that the highest pays up to 5 for a winning combination of 5 symbols.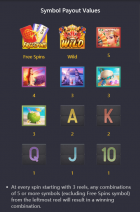 The selection of symbols is completed by the lower-paying royal cards that go up to 2 for a combination of 5 matching symbols.
Bali Vacation Bonus Features
The selection of bonus features integrated into the Bali Vacation slot is not so abundant, but it's complex enough to offer a dynamic session of entertainment.
Multiplier feature: during the main game, the multiplier starts from x1, and with every extra reel added it increases by 1.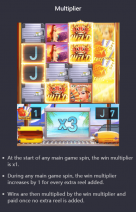 Bali Vacation free spins: this feature is triggered by at least 3 free spins symbols. When this feature is triggered, players will get 8 free spins, and with every extra symbol added, 2 bonus spins will be offered.  It's good to know that with this feature, the win multiplier starts from x1 and increases by 1 with every additional extra reel.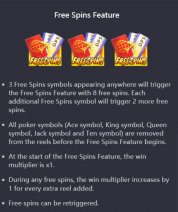 How to Play Bali Vacation
Bali Vacation presents itself as a 3+ reels and 4 rows video slot with an infinity reels function incorporated. If you want to give it a try, you just have to set a preferred value from a min bet of 0,2 to a max bet of 200.
Before giving it a try, in the menu section, you will find all the necessary details on symbols, bonus rounds, and additional rules on the base game that may be of use. Furthermore, you will find a standard of settings that can be adjusted to offer a better experience.
Bali Vacation Big Win
If you want to indulge in an exotic slot and dream of a vacation, you can do it for fun, without unrealistic expectations in the material gains. If you are just curious about the value of the maximum win, know that it goes up to 3560x of the initial bet.
Verdict
Well, it's time to pack everything and get back to serious things. It's time for the serious verdict. With Bali Vacation you can dream of that ideal escape.
The theme and the aesthetics will encourage you to envision yourself sipping a cocktail on the beach, and with the bonus rounds, you can have a dynamic session of fun.
 Overall, this slot deserves a 9 out of 10. We have to lower the score due to the flaming hot volatility that can burn your budget if you're not cautious.
Bali Vacation Free Spins No Deposit Bonus Offers
A Bali vacation sounds thrilling but, the circumstances may not be favourable for such a vacation. If you don't have time or money for such an exotic escape, you can explore the adventures proposed by the huge island of free slots.
If the Bali Vacation slot, looks like your perfect virtual vacation, you may want to put in luggage some Bali Vacation free spins no deposit offers provided by top-rated online casinos.
If you want to experience the island of free slots, you need an account and when it comes to bonus offers, t&c s apply.