Cycle of Luck Review
The Cycle of Luck sounds pretty interesting, it may show that luck comes in a circular motion, one moment you may feel lucky, but in the next moment, the luck may not be on your side. We don't bet on luck, just on good sessions of entertainment, that's why we have to inspect further the Cycle of Luck game.
Theme & Graphics
The theme and the graphics blend into an inception scenario. You're playing at a slot machine in an online slot. In this department, things look clean and straightforward, we do not have complex animations or an over the top visual composition but it may have a joyful outlook if you're missing a classy slot machine.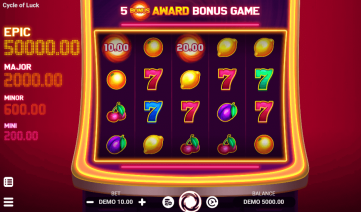 If you want to explore more creations provided by EvoPlay entertainment, we can offer you these suggestions: Rise of Horus and Indiana's Quest.
Cycle of Luck RTP & Volatility
Cycle of Luck RTP hits a percentage of 96,12% and this value is mixed with a nice low to medium volatility. With this mix, the chances of hitting a prize are not so rare but don't bet on this, bet instead on a session of fun without high hopes. Although the volatility is not too high, we still advise you to be really cautious if you want to try it with real money and choose responsibility as your best ally.
Cycle of Luck Symbols
The Cycle of Luck slot online includes two premium symbols, a wild and a bonus symbol that triggers the bonus game, a selection of 7's and a range of fruity symbols.
The entire range of paying symbols includes a cluster of 7's that goes up to x500 for a winning combination of 5 symbols and plenty of colourful 7's. The list of symbols is completed by a fruity selection of oranges, cherries, lemons and plums.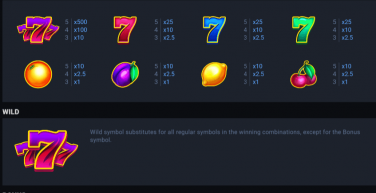 Cycle of Luck Bonus Features
When it comes to bonus features, Cycle of Luck slot game offers a bonus game and jackpots.
Bonus game feature: this feature is triggered by at least 5 positions with bonus symbols, each one comes with multipliers from x1 to x16. In this round, the reels are changed, 4 rows are added and the amount of positions raises to 40. It's good to know that at the start of this round, 3 extra spins will be offered.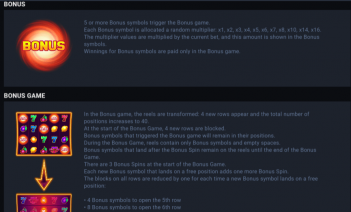 Jackpots: this feature comes with 4 distinctive jackpots with multipliers. The symbols associated to the jackpots can appear only in the bonus game.
If players will trigger the epic jackpot, they will be rewarded with 5,000x of the original stake. Additionally, the following jackpots go up to x200, the major jackpot consists of x200, the minor goes up to x60 and the mini jackpot comes with a multiplier of x20. 
How to Play Cycle of Luck   
If Cycle of Luck tempts you, you just have to set your bet value, press spin and see where will this circle take you. 
When it comes to instructions, it's good to know that this slot is optimised for mobile gaming. The menu section offers an info button with the rules of this game, a paytable and details on the bonus feature. Additionally, here can be found a set of settings that influence the experience and can be adjusted to offer a personalised experience tailored to your preferences.
Cycle of Luck Big Win
The Cycle of Luck may offer a nice session of entertainment, as long as you just want to have fun with a classic slot, but if you are curious about the big win, know that the highest prize goes up to x5000 of the initial bet. 
Verdict
With the Cycle of Luck you're playing an inception video slot, a slot in a slot. If you're nostalgic and miss an oldie slot machine, this game may be a nice capture, for us, it's an 8/10 capture. Luck may be caught in a cycle of rewards on losses and you never know what you can get, but you will always know that you can get a nice session of entertainment when you play responsibly.
Cycle of LuckFree Spins No Deposit Bonus Offers
The Cycle of Luck may be lucky for some players, for others it may not be too lucky. We don't bet on luck but on an entertaining collection of free slots that may make you feel lucky.
If you want to enter the cycle, the Cycle of Luck free spins no deposit bonus offers offered by appreciated Cycle of Luck online casinos may be of use.
Please play responsibly and remember that if you want to indulge in the free slots array, you need an account on SlotsCalendar.