The Kings of Crystals slot online is a first for the software developer, All41Gaming in collaboration with Microgaming, as it is its debut in the medieval fantasy slot category. The game revolves around three kings who are searching for various colored crystal crowns, and these are won as scatter symbols during all phases of play.
If you like playing with lower stakes, you'll be pleased to know that the Kings of Crystals demo offers a modest range of bets. The betting possibilities in the Kings of Crystals casino are not particularly severe, and they range from £0.20 to £20 per spin, depending on how much money you gamble.
The Kings of Crystals casino has a really immersive and dramatic atmosphere, as well as numerous astounding surprises. The game has an expandable layout, nudging wilds, free spins, and several regularly paid jackpots that are worth playing for.
Theme & Graphics
The game's visuals must have taken a lot of effort and care. The stunning visuals of the Kings of Crystals game only enhance and improve the already brilliant appearance, as well as provide for fluid gameplay.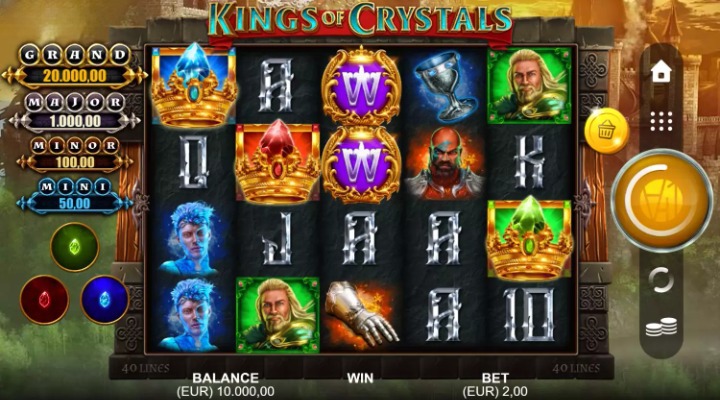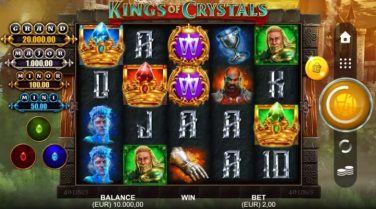 The reels are extremely well-crafted, with trimmings that resemble stone and wood structures encrusted with intricate motifs and designs. We also have the game's setting, which is a thick jungle on the bottom half of the screen while a huge medieval castle shines in the night sky above it.
The game, on the other hand, looks quite old. The blue-haired king appears strange and alien in comparison to the other two kings, who have brown hair. A little official background would've been nice, but you may always make your own tale while spinning the reels.
If you wish to play other great slot games from the same collection, check out Gems of the Nile and Smooth Sailing.
Kings of Crystals RTP & Volatility
The Kings of Crystals RTP is limited to 96.40%, which is a fantastic price, but it appears that the developers included several additional values that are below the industry average, so keep an eye on which RTP is being used in the casino. This is a highly volatile game, which means that you can expect extremely valuable rewards, which will not land very frequently.
Kings of Crystals Symbols
There are two halves to the list of symbols. The lower-paying 9, 10, J, Q, K, and A symbols have a distinct metallic style in the first half of the paytable. At the top of the paytable are a gauntlet, a chalice, and three mighty kings that are worth 5x more than others.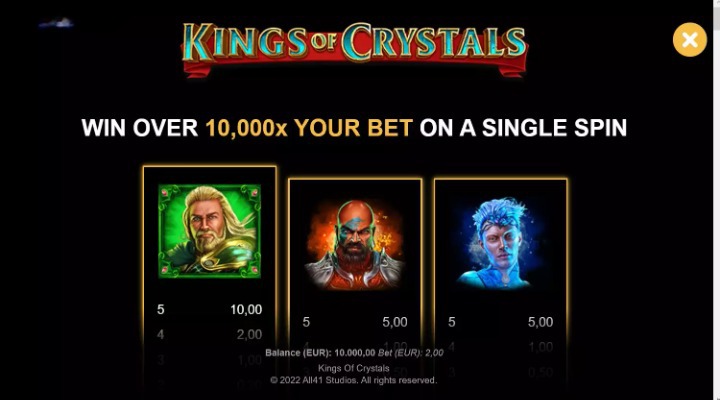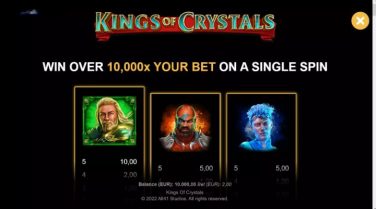 The purple W symbol, which is represented by a wild icon, can take the place of the regular pay symbols. There is also three distinct crystal scatter symbols and other special money symbols that we will discuss further in thisKings of Crystals review.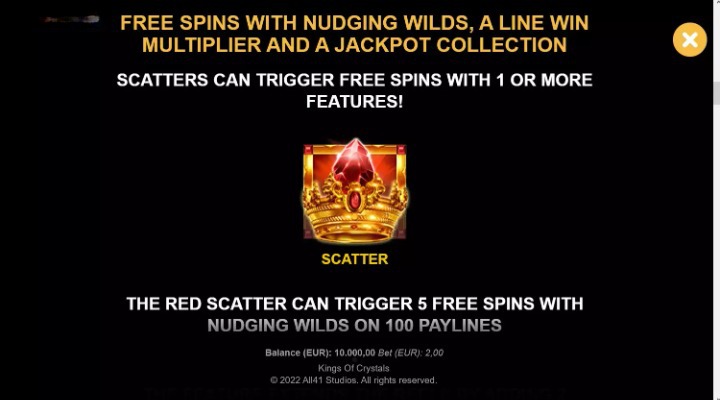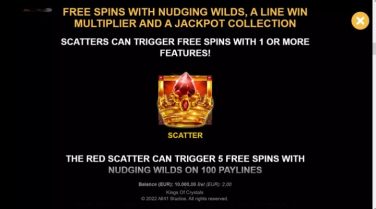 When the red, blue, and green crystal crowns appear in the left corner of the board, they are collected there in the meters. This eventually activates a bonus round (or combination), which features additional modifiers based on the color of the crystal you activate.
Kings of Crystals Bonus Features
The bonus features in the Kings of Crystals free play are some of the most remarkable on the market, and they will not only make the game more exciting on their own but they may also be combined and perhaps even enhanced to increase your chances of earning large payouts. Let's go through them one by one.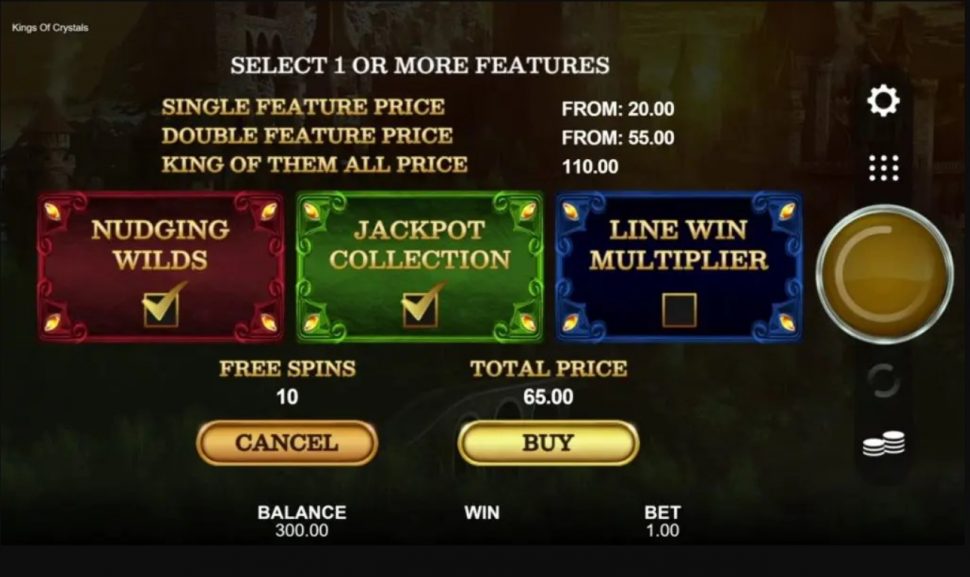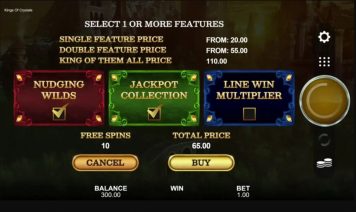 The Nudging Wilds Bonus Round offers 5 free spins, and you will benefit from stacked wilds that move into place to cover any rolls that appear. This feature includes an extended set of 5×6 reels with 100 pay lines and red scatter to reveal a random number of extra spins.
The Jackpot Bonus Round offers you 10 Kings of Crystals free spins, and this is your opportunity to win the four jackpots depicted on the left. Cash awards ranging from 1 to 10x your stake are revealed by gold coin symbols.
The Multiplier Bonus Round gives you five free spins, with a random multiplier of x2, x3, x5, or x10 for each spin. When the blue scatter appears during this function, gain a random number of extra spins.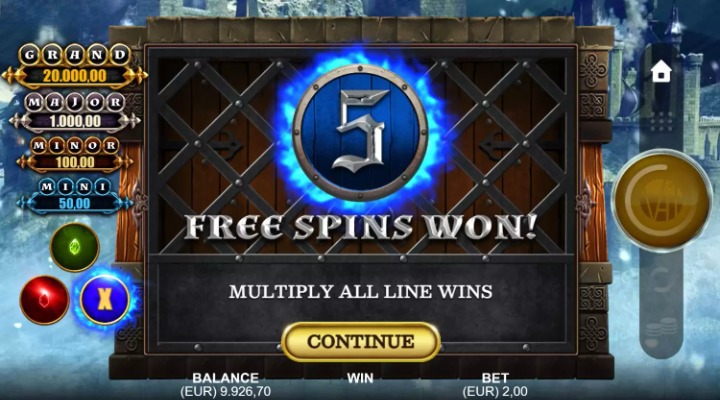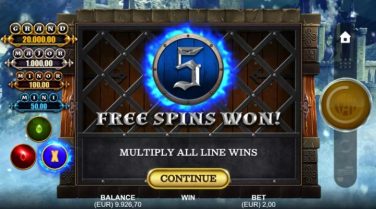 The bonus buy option in the Kings of Crystals slot online is also very useful, but it isn't available to players in the UK. The feature offers up to 7 different options that are worth between 20x and 110x the stake, which is a great deal if you can get all seven of them.
How to play Kings of Crystals
We recommend you to test Kings of Crystals free play, a virtual balance is provided to perfectly duplicate the complete online casino experience. This amount of money has no real-world value, but it allows you to act as if it were real, allowing you to compare your performance against that of a player at a genuine online casino.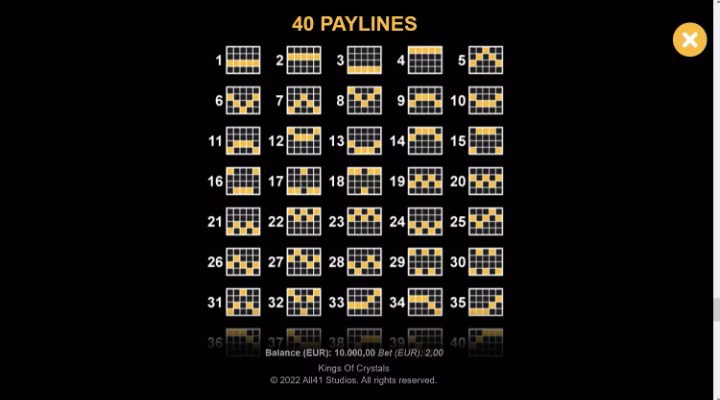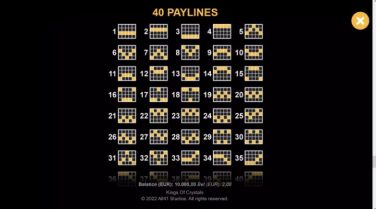 Play Kings of Crystals and see that bets must be placed during the betting window on the layout, which shows five potential betting positions corresponding to the segments of the Wheel. Bets on Bonus games are offered in particular areas dedicated to those activities.
The majority of the video slots now on the market are developed using sophisticated HTML5 technology, which means they may be played on a wide range of devices, including desktop computers, tablets, and smartphones. On a little screen, you can still get the same fantastic visuals and gameplay with no problems and no need for extra downloads.
Kings of Crystals Big Win
The jackpot that is displayed will be the most recent one or a random market event. It's up to you to choose which option works best for you. They'll come with a letter attached, indicating their prize amount:
Mini Jackpot – 25x the stake
Minor jackpot – 50x the stake
Major Jackpot – 500x the stake
Grand Jackpot – 10,000x the stake
Verdict
The visual presentation was not an immediate influence on us, and it appears somewhat outdated and generic upon further examination. It's unclear how many scatters you must collect to activate bonus rounds, but they seem to occur on a regular basis and for this, we give it an 8 out of 10.
Kings of Crystals Free Spins No Deposit Bonus Offers
If you want to have the benefit of this slot with real money, you can snatch one of our Kings of Crystals Free Spins No Deposit Bonus Offers that we come up with on this page. No worries if you do not see one right now. We have many more bonuses for a ton of slots. Register at whichever one you want and start playing for real money!