KRAZY KLIMBER Review
The KRAZY KLIMBER slot presents itself as an adaptation of the original King Kong, but we're dealing with a brand new climber, an art deco stage and some surprises that are waiting for us. Let's check them in this review!
Theme & Graphics
With a theme centred on King Kong, this joyful slot may be a good option if you are looking for a free and risk-free slot session. The theme is promising, creative, but the visual experience is a bit off-putting. 
Krazy Klimber integrates a peculiar look, we remark the art deco influences which are a bit strange for this theme, but not problematic. The visual composition is dusty, we're not dealing with an over-the-top execution even though the ideas behind this slot were pretty promising. 
If you want to explore more video slots provided by Yggdrasil, we can offer these recommendations: Word of Thoth and Cauldron.
KRAZY KLIMBER RTP & Volatility
KRAZY KLIMBER RTP presents a percentage of 94,09%, and this value is mixed with a low to medium volatility. With this combination, the prizes will have low values, but the opportunities to mark a winning combination may be more frequent, so the RTP-volatility ratio is quite decent. Although it does not deal with high volatility, it would be good to give it a few hands in free play mode to test it.
KRAZY KLIMBER Symbols
In the range of higher-paying symbols, this slot features a krazy klimber symbol that pays up to 50x for a combination of 5 symbols, an aeroplane, a skull and a character. The list of thematic symbols is followed by the lower-paying royal cards that pay up to 4 for a combination of 5 symbols.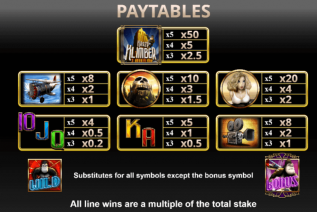 In the category of special symbols, Krazy Klimber proposes a wild symbol that substitutes the entire range of non-special symbols, and a bonus symbol that triggers a highly expected round. 
KRAZY KLIMBER Bonus Features
This game doesn't propose a spectacular selection of bonus rounds as we expected, but 2 features that may generate a satisfying experience. The KRAZY Klimber online slot presents a climb feature and a free spins feature. 
The climb feature is triggered by the bonus symbol landing on reels 1,3 or 5. In this round, the ape will climb the top of the tower, offering a cash prize or free spins.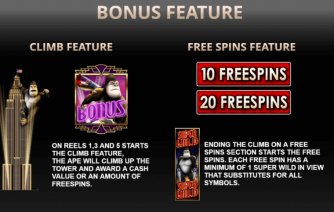 The bonus round of free spins can offer 10 bonus spins or 20 free spins, besides this with each spin, a super wild can spice up the game.
How to Play KRAZY KLIMBER
If the Krazy Klimber slot machine seems a promising option, you can try it in free play. You just have to set a preferred bet value choosing from a min bet of 0,2 to a max bet of 100, and hit the spin button.
You don't need complex instructions to give it a try, but if you need more details, you can check the menu. Here you'll find the paytable, details on bonus rounds, and a set of elementary instructions on the base game. 
KRAZY KLIMBER Big Win
You can give it a try for fun, without unrealistic expectations in this department. By choosing a risk-free session you'll avoid a wound in your budget, but if you are just curious about the value of the highest prize, know that the max win goes up to 3902x of the initial bet.
Verdict
We've climbed the top of the tower and now it's time to give the verdict. Krazy Klimber is a decent option, but the entire mix is a bit peculiar. The visual composition is not one of the freshest and newest, it's a bit dusty and the art deco influences are not in sync with the theme. 
The bonus rounds department is not the greatest, we're dealing with two features and we were expecting more for such a plot. Besides this, if you're struggling with a chain of dead spins, this slot can be pretty boring, so Krazy Klimber gets an 8 out of 10.
KRAZY KLIMBER Free Spins No Deposit Bonus Offers
You can climb the top of the tower if King Kong holds a soft spot for you, or you can climb the free online slots section if you're looking for a spectacular adventure adapted to your preferences. 
If you're ready to climb the tower safely, like a pro, you may want to look for some KRAZY KLIMBER free spins no deposit bonus offers provided by some highly appreciated online casinos.
Remember that t&cs apply for any selected offer.