Legends of Troy The Siege Review
Open your eyes, no you're not dreaming. With the Legends of Troy – The Siege slot online, you can portray yourself as a glorious main character and get the taste of an adventure that can offer an exquisite experience of a mythical dimension. 
Theme & Graphics
With a theme that blends myths and legends, you can get a glimpse of the long lost Troy. The graphics department encourages an immersion into a mythical dimension animated by magnetic characters of the Ancient Greece. We assume that with such a visual composition you can be one of them. Overall, in this department, Legends of Troy – The Siege game hit our soft spot.
If you're looking for legendary or at least entertaining creations provided by High 5 Games, here are our suggestions: Spin-Vention and Defenders of the Realm.
Legends of Troy – The Siege RTP & Volatility
Legends of Troy -The Siege RTP hits a percentage of 96% and this value is mixed with a medium volatility. With this mix, the race will be quite unpredictable and dynamic, it's good that we're not dealing with a high volatility, but we would've loved a low volatility.
Legends of Troy – The Siege Symbols
Legends of Troy-The Siege slot game presents a selection of elements inspired by the theme and in this range, you will find a sword, a helmet, a horn and a shield. The highest paying symbol goes up to 5000 for a winning combination of 9 matching symbols. The list is followed by the lower-paying royal cards that go up to 1000 for a winning combination of 5 symbols.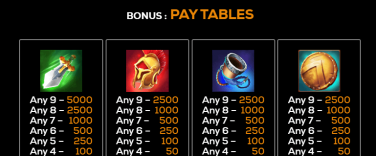 Legends of Troy – The Siege Bonus Features
In the register of bonus symbols, Legends of Troy – The Siege online slot delights its players with a multiplier feature and a bonus game feature.
Multiplier feature: with this feature, a random, number of reels will be charged for a free game. It's good to know that a charged reel can offer credits and a multiplier that depends on the number of charged reels. 1 charged reel will result in a 2x multiplier, while with 9 reels charged, a 100x multiplier can be offered.

Free Games: this feature is played on 9 reels, and awards free games that will be played automatically, but keep in mind that the reels will not be the same as those involved in the base game.

How to Play Legends of Troy – The Siege
Legends of Troy- The Siege presents itself as a 5×3 reel set video slot. The plus button offers a sound setting and an info button that sends you to the section with the paytable and the bonus features integrated into this slot. Additionally, you will find a section with general rules and settings that can be adjusted to offer a better-customised experience.
If Legends of Troy – The Siege has the potential to simulate a legendary adventure, you just have to press spin, but not before setting a preferred bet value from a min bet of 0,05 to a max bet of 100.
Legends of Troy – The Siege Big Win
You can taste the glory of a light session of entertainment without high expectations or illusions in the winning department. If you are curious about the value of the highest prize, know that it goes up to x10031 of the initial bet, but don't forget that this slot is pretty volatile so play  responsibly.
Verdict
We've finished the last chapter of the Legends of Troy-The Siege and it deserves an 8 out of 10. We have to admit that the theme is pretty appealing, and the bonus features segment keeps up with your expectations.
The format of this game may not be as entertaining as you want it to be, and in the graphics department the playground could have been more entertaining, but overall this slot deserves a try if you want to get in touch with the warrior within you.
Legends of Troy – The Siege Free Spins No Deposit Bonus Offers
Some slots may be legendary, others may be non-legendary, but the kingdom of free slots is undoubtedly the perfect place for a legendary adventure.
If you are ready to have a legendary session of entertainment, you may want to check in advance the Legends of Troy-The Siege free spins no deposit bonus offers provided by some of the most popular online casinos of the moment.
Do not forget that a deposit welcome bonus can only be claimed once every 72 hours across all casinos.