Royal Dragon Infinity Reels Review
The dragon symbolises power, strength and good luck in the Asian culture, and we're wondering if the Royal Dragon Infinity Reels is as strong and powerful as its source of inspiration. We cannot guarantee at this point, but we guarantee that you will find our discoveries in this slot review.
Theme & Graphics
The mirage of an Asian venture is captured by the theme integrated into the Royal Dragon Infinity Reels game. The entire setting can please your eyes and provide a relaxing session of entertainment.
The graphics capture a spark of the East Asian energy, through the selection of themed elements and the vibrant red hues. We have to see further what other surprises are offered by this royal dragon.

If you want to delight yourself with more exquisite creations provided by GamesLab in collaboration with Yggdrasil, we can offer you these suggestions: Word of Thoth and Cauldron.
Royal Dragon Infinity Reels RTP & Volatility
Royal Dragon Infinity Reels presents an RTP of 95.85%, and this value is mixed with a medium to high volatility. With this blend, the race towards the prizes may be wild and unpredictable, that's why it's highly advised to lower your expectations in the winning department and play responsibly!
Royal Dragon Infinity Reels Symbols
A wild dragon that can substitute the entire selection, with one exception, the scatter Gong.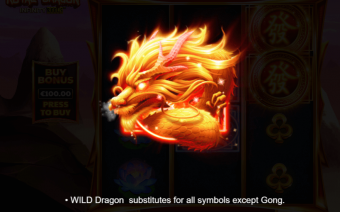 The scatter symbol, depicting a gong triggers the free spins rounds when it comes in a pairing of at least 5 symbols.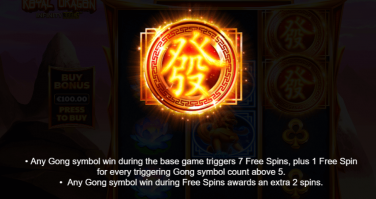 The list of thematic symbols integrates a golden bird, a golden dragon, a fish, a frog, an ornament, and a lotus flower. The golden bird pays up to 8, the golden dragon goes up to 5, the mid paying symbols go up to 4. The selection of symbols is completed by the lower-paying royal cards that go up to 1 for a combination of 5 matching symbols.
Royal Dragon Infinity Reels Bonus Features
The Royal Dragon Infinity Reels integrates an infinity reels mechanic, as you may already know. Let's see how promising can be the spectrum of bonus features with this mechanism.
Infinity reels: with this feature, the spins will start with 3 reels and the winning combination will keep on adding reels. When a winning combination strikes in the rightmost reel, an extra reel will be added, and this process may repeat with every valuable winning combination.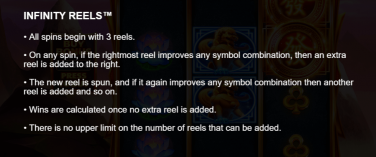 Symbol multiplier: It's good to know that the multiplier starts from 1 in the base game and raises by 1 with every new reel, and the win multiplier will be applied to the entire range of symbol wins.
Frenzy Spins: this free spins feature may be triggered with any base game and will apply multipliers that go up to x5 to prizes gained through those particular spins that triggered them.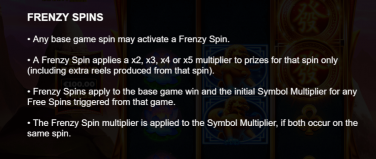 Infinity Bonus: when at least 12 reels will be added, a prize of 200x will be applied to the total bet.
Royal Dragon Infinity Reels free spins: with a gong symbol that triggers a win, during the base game, players will get 7 free spins.
How to Play Royal Dragon Infinity Reels
If the Royal Dragon Infinity Reels sparked your interest, you just have to set a preferred bet value, press spin and see where will the royal dragon take you.
In the menu, you will find every piece of information that may be of interest to you. Here you will see the paytable, details on bonus rounds a set of game rules that may be useful. Before playing, you just have to set your bet, choosing a value from a min bet of 0,10 to a max bet of 100.
Royal Dragon Infinity Reels Big Win
You can always indulge in a relaxing session of Royal Dragon Infinity Reels for fun, without high expectations in the material gains. If you're just curious about the big win proposed by this slot, know that the max win goes up to 2652x of the initial bet.
Verdict
The Royal Dragon Infinity Reels may be as powerful, and full of strength as the one depicted in the Asian mythology. We cannot guarantee that this one is full of luck, because we don't bet on luck, and the high volatility can create a very unpredictable and tricky race.
 Overall this dragon deserves a 9 out of 10. The range of bonus features it's delightful, but the volatility is too high and as a dragon, it can set your budget on fire if you're not responsible.
Royal Dragon Infinity Reels Free Spins No Deposit Bonus Offers
Power strength and good luck may not come only from the symbol of the dragon. You may find them in the selection of free slots too, by discovering the newest slots with marvellous bonus features and twisted adventures.
If you want to take the challenge given by the royal dragon, the Royal Dragon Infinity Reels free spins no deposit bonus offers provided by top-rated online casinos, may help you step some stairs in advance.
One more thing! If you are looking for bonus offers, keep in mind that t&c apply for every offer.