The Hot Offer Review
A hot offer comes and proposes you to indulge in a slot that promises a simulation of a casino experience. Would you accept it? We have to see how hot can be The Hot Offer game before you give it a try. We will disclose in this slot review if The offer is hot or…not, or cold?
Theme & Graphics
With a theme that makes you want to feel the thrill of an authentic casino experience, the offer may be pretty hot for those who dream of a night in Vegas. The graphics department keeps a minimalistic framework, but it may be quite appealing to those who love to indulge in slots with traditional aesthetics with a twist.
If you want to indulge in more experiences provided by Bang Bang Games in collaboration with Yggdrasil, here are our recommendations: Cauldron and Word of Thoth.
The Hot Offer RTP & Volatility
The Hot Offer RTP presents a percentage of 96,57%, and this value is combined with a medium to high volatility. What can we say? You have to be really cautious with this combo because the chances of hitting a prize can be seldom, that's why we highly advise you to play responsibly.
The Hot Offer Symbols
The Hot Offer presents an attractive range of symbols for those who like from time to time to indulge in a casino experience. The register of symbols includes premium symbols such as a wild symbol and a scatter distinguished as a double-up bonus symbol. This register is completed by higher symbols, a 7 symbol and a diamond, and the highest value goes up to x20 for a combination of 5 symbols. The highest value of the mid-range goes up to x7,5, while the royal cards go up to x1 for a combination of 5 symbols.
We can integrate into the list of symbols the chips included in the bonus rounds. In this selection, we have chip symbols of different colours, red, blue, green, purple and pink and when it comes to these chips, the highest value of the mega chips goes up to x50 for the biggest winning combination. This register is enriched with mystery chips and chips of higher values, bronze, silver and gold, and in this selection, the highest value goes up to x100 for the biggest winning combination.
The Hot Offer Bonus Features
Let's see how hot can be the bonus features segment!
Hot Offers: this feature is triggered by at least 5 chips during any spin. It's good to know that some chips may have cash values attached and some will have mystery values. When the hot offer panel appears, players will decide if they take the offer or take the chips. If players decide to take the offer, they win the value displayed on the panel. If players opt for the chips, the mystery values will be revealed and they will be collected.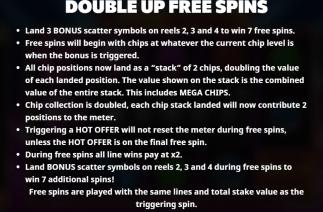 Chip Up Meter feature: the chips that will land will ultimately form a chip up meter with increasing chip levels. With 25 chips, their colours and values will be promoted. It's good to know that this feature integrates 8 levels and the chips related to the hot offer bonus will be credited to the chip up meter.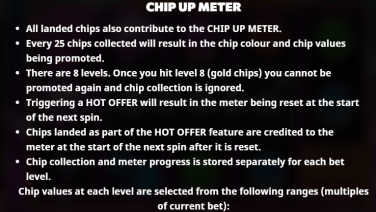 How to Play The Hot Offer
The Hot Offer online slot presents itself as a 5×3 slot game with 20 paylines that wants to offer a simulation of an authentic casino experience.
In the menu section, players will find the rules of this game, the descriptions of the bonus features and additional pieces of information that can be useful. In the same section, there are present standard settings that can be adjusted to offer a better experience. 
If The Hot Offer seems hot enough, you just have to set your bet value, press spin and see what's in this virtual casino. Do not forget to play responsibly!
The Hot Offer Big Win
 You can always take the hot offer for fun, without high expectations in the winning department, the odds are that you'll have a nice time, but if you're curious about the highest value, know that it goes up to x6038 of the initial bet.
Verdict
The offer may be pretty hot to slot enjoyers who opt for traditional games when it comes to design. The Hot Offer is also hot if you want to immerse yourself in a virtual casino experience. But The Hot Offer is not hot at all, actually, it's cold when it comes to the volatility, with this one you should be cautious and play responsibly, you don't want an inflamed budget!
The Hot Offer Free Spins No Deposit Bonus Offers
A hot offer may be pretty hot to some players, for others it may be quite cold, but the wide array of free slots and the bonus offers on SlotsCalendar are always a hot offer for slot lovers.
If the offer seems pretty hot, you may want to keep it cool with The Hot Offer free spins no deposit bonus offers provided by some of the hottest online casinos of the moment.
If you enjoy a slot machine, you definitely enjoy free slots too, and on SlotsCalendar you just need an account to explore the wide array of free fames.