Triple Gold Review
When we see such a title, we may have plenty of expectations, but we shouldn't be fooled by such a grandiose title. The Triple Gold slot may be pure gold or an imitation, we have to inspect it in detail and share with you our findings.
Theme & Graphics
The Triple Gold slot offers a theme that may be quite appealing to those who enjoy playing the veterans of the slots, but if you're more inclined to new slots with twists, this may not be the greatest option. 
In the graphics department things don't look great, nor terrible, they resemble the visual experience of a classy slot that may stir the nostalgia in some players.
If you are curious about other slots provided by IGT, you can check our recommendations: Pharaoh's Fortune and Crazy Wizard.
Triple Gold RTP & Volatility
Triple Gold RTP presents a percentage of 96,49%. Although the volatility is not offered, by testing Triple Gold, we assume that it's medium to high. With this rapport, the chances of hitting a prize are not so often, so you should play it as responsibly as you can.
Triple Gold Symbols
The register of symbols comprises triple 7's , a triple gold symbol, duplets of 7's, single 7 symbols, a 5 symbol, and a bar symbol. The symbols with 7's are the highest-paying symbols, while the 5 and bar symbols are the lowest-paying symbols.
When it comes to the highest symbols and their values, it's good to know that the values depend on the lines. The 5th line full of triplets of 7 goes up to 2000, the 4th line goes up to 1800, the third line goes up to 1650, the second pays up to 1500, while the first line holding the same combination goes up to 1350.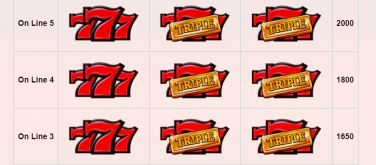 Triple Gold Bonus Features
Triple Gold slot online doesn't offer a vast selection of bonus features, but it offers a multiplier feature.
The multiplier feature is focused on the triple gold symbol. This symbol can appear anywhere on the reels and if this symbol is found on a line, it can multiply it by 3x. When two triple gold symbols are found on a line, the win will be multiplied by 9x. Last but not least, with three triple gold symbols, a multiplier of 27x will be attached to the win. 
How to Play Triple Gold 
Triple Gold slot game presents itself as a 5×3 classic slot with 5 paylines, in which the bet can start from 5 and goes up to 50000. If you would like to give it a try, you just have to set your bet value, press spin and see where will these lines take you. Do not forget to play responsibly, you don't want a wounded budget! 
The paytable section will offer a representation of the winning lines and payback details that may be of use. Next to the paytable, there's a game rules section that offers details on the bet configuration, features and settings that will affect the game. 
Triple Gold Big Win
The big win proposed by Triple Gold goes up to 2500x of the initial bet. It's important to lower your expectations in this department because this volatility may not offer many chances of hitting a nice combination, so it's better not to dream of real money, play responsibly and take care of your budget, you don't want it in flames!
Verdict
Triple gold may sound thrilling, but as you know, you shouldn't let yourself be fooled by a title. This online slot may be pure gold for the nostalgics who would always go for an oldie slot machine and a classy gem instead of a new one, but it may not be gold at all for those who are inclined to new age slots. 
Overall, Triple Gold hits a score of 7 out of 10, the bonus department is pretty poor, the experience may get boring, and the volatility is pretty high and can set your budget on fire if you're not cautious, you clearly want to avoid that scenario.
Triple Gold Free Spins No Deposit Bonus Offers
Some slots may be pure gold, others may not be, but in the huge array of free slots available on SlotsCalendar, you cannot miss your golden slot. 
If Triple Gold looks like your golden slot, then you can mine under this review for some Triple Gold free spins no deposit bonus offers provided by top-rated online casinos.
Please play responsibly and keep in mind that if you want to enjoy the collection of free casino games you need an account on SlotsCalendar.