Run Amuck Review
It may be your lab for endless excitement! If you're looking for more entertainment, this may be the option you were missing, at least these are our expectations. It remains to see if this laboratory really is one of endless excitement or a horror one. It remains to see in this review.
Theme & Graphics
With a theme that focuses on a lab full of bacteria monsters and surprises, you immerse yourself in a futuristic-cartoonish setting that can destroy your boredom and bring a little combustion of energy.
The visual composition deserves our compliments. In the graphics department, they overcame our expectations, this game has the capacity to bring some moments of joy through its adorable monsters and the cartoonish design that may bring out the child within you.
If you'd like to experiment with more options from High 5 Games, we can offer you these suggestions: Cosmic Convoy and Legends of Troy-The Siege.
Run Amuck RTP & Volatility
Run Amuck RTP reaches a percentage of 96%  and this value is combined with a high volatility. The experiment may be nice, but the race towards the prizes may be pretty dangerous.
This high volatility may offer really few chances of hitting a prize and overall the game will be pretty unpredictable. That's why we advise you not to play with your budget if you want to try it with real money, but to play responsibly.
Run Amuck Symbols
The selection of symbols presented in the Run Amuck slot integrates plenty of elements that remind you of a cartoonish laboratory.

The highest paying symbols are depicted as monsters and the highest symbol, the blue monster, pays up to 60000 for a winning combination of 48 matching symbols. The purple monster goes up to 30000, the orange goes up to 12000, while the green monster goes up to 12000 for a winning combination of 48 symbols. The list of symbols is completed by tubes that go up to 6000.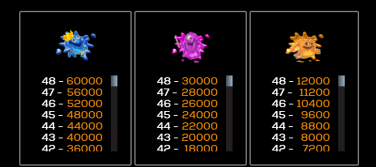 Run Amuck Bonus Features
Free Games bonus feature: with at least three bonus symbols on the reels during the base game, players will receive 8 free games.

During a free game, a group of matching symbols will be placed on the reels. It's good to know that a free game bonus will be played on different reels, but the bet multiplier will remain the one from the game that initiated the feature.
Racking up Riches: this round is triggered when a cluster of at least 4 matching symbols appear on adjacent reels. In this round, the regular symbols will be replaced by higher value symbols, and there will be more and more opportunities to hit higher winning combinations.
How to Play Run Amuck
Run Amuck presents itself as a 7 reels 7 rows video slot that integrates a cluster pays mechanism. If this game tempts you, you just have to set your bet choosing a preferred value from a min bet of 0,20 to a max bet of 400, press spin and see what's the deal with this lab.
Before playing it, the + button will send you right to the menu. In the menu, you'll find the paytable, details on bonus features and a set of standard game rules. Additionally, you'll find a selection of standard settings that can be adjusted to assure a better-customised experience.
Run Amuck Big Win
You can enjoy a funny session of Run Amuck online slot for entertainment, without high expectations in the winning department, the odds are that you'll have a nice time. If you are curious about the value of the highest prize, well it's not that big, it goes up to 1500x of the initial bet.
Verdict
It's time to leave the laboratory, but not before giving it a score of 8 out of 10. The theme is highly creative and the visual composition along with the sound effects blend into a joyful and entertaining experience.
 We have to lower the score due to the bonus features segment that is not as generous as we expected but the biggest minus is given to the high volatility that can make the game less thrilling and inflame your budget if you're not cautious. Overall you can have a nice time in this lab, but you have to play responsibly!
Run Amuck Free Spins No Deposit Bonus Offers
As you may know, experiments that generate successful results take time. Fortunately, you have SlotsCalendar by your side, with the Run Amuck free spins no deposit bonus offers provided by top-rated online casinos, that may do some tricks for a thrilling experiment.
If you would like to experiment with more options, the laboratory of free slots games is what you're looking for. Here you find your beloved casino games, along with the newest slots that can top up your game.