Slingo Rainbow Riches free play is a delightful combination of two hugely popular and beloved gaming experiences: slot machines and bingo. This particular iteration, brought by SlingoOriginals, aimed to combine the best and simplest features from both concepts. As a result, the slot machine works simpler than it appears and guarantees a surprisingly fun experience.
With a grid featuring 5 reels and 6 rows, Slingo Rainbow Riches demo offers 12 paylines while also guaranteeing special bonuses when reaching certain thresholds. While filled with amazing surprises and interesting functions, this game ensures good fun. Continue reading this review to see how it works and if it's worth playing in a proper casino.
Theme and Design
Thematically, this slot machine is centred around the magical world of leprechauns and the riches that accompany them. Considering we're dealing with these mystical beings, their signature colour has always been green. In conclusion, this game's predominant colour is also green.
The graphics quality is perhaps the first detail that sticks out when playing the game. It's quite noticeable that they needed some improvement. Fortunately, they are proper enough not to distract you from the gaming experience. The animations have the same quality as the graphics.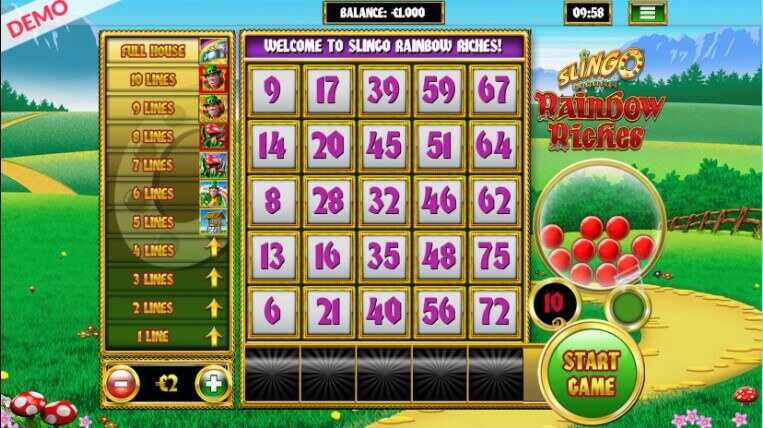 A lush field full of grass, flowers and mushrooms serves as the background, highlighting the predominant green while mountains and forests are visible in the distance. Purple numbers in greyish-white cases compose most of the playing grid, with some white numbers in black cases. The whole grid has a golden outline.
The game also features a very cheerful soundtrack inspired by traditional Celtic music. Every animation triggers events such as wins and bonus activations.
Slingo Rainbow Riches Free Play Mobile Slot
Play this slot machine on your favourite gadget, thanks to HTML5 and Flash technology, and enjoy the fun wherever you go. By opening the game in your favourite browser, you only have to relax while trying it on any mobile device!
Technical Features
| | |
| --- | --- |
| Reels | 5 |
| Rows | 6 |
| Paylines | 12 |
| Adjust paylines | ❌ |
| Min. bet | 0.5 |
| Max. bet | 100 |
| Jackpot  | ❌ |
| Gamble | ❌ |
| Autoplay | ❌ |
| Free spins | ✔️ |
| Bonus round | ✔️ |
| Lines pay | both ways |
Wager limits
The entry-level sum you can bet in this game is 0.5 credits. The maximum amount available to bet is 100 credits, a good number for high-stakes enjoyers.
Generally, the slot offers an admirable gaming balance, considering its betting flexibility. The options are definitely advantageous for beginners while satisfying experienced players. High-rollers might be looking for something more challenging, even though this game offers the opportunity to bet even more on extra spins.
Bonus Features
One of the strongest points this game showcases is its collection of bonus features, most triggering after a certain number of lines is completed. A simple feature is a free spin in addition to the 10 you receive by default. It simply gives you a free extra chance to complete a line.
Something very notable is the possibility of purchasing extra spins; their cost is based on a coefficient according to the sum you've bet during the round. This option is customizable, as we'll explain later in our Slingo Rainbow Riches slot review.
There are numerous bonus rounds, each triggering a special type of bonus:
Wishing Well: starts when completing 5 lines. You must pick between 3 wells, each awarding a multiplier to your initial bet.

Cash Crop: a field featuring 50 spinning coins appears when you complete 6 lines, revealing certain winning values. You can advance this round up to 4 times, with multipliers going from x0.5 up to x10.

Magic Toadstool: triggers at 7 completed paylines and lets the player pick 3 mushrooms. Win values are between x1 and x5 while picking a fairy reveals 3 more. If you reveal all values with 1 pick remaining, the slot doubles the accumulated win, tripling it with 2 picks remaining.


Magic Toadstool Red: an improved variation of the previous bonus, allowing 4 picks when reaching 8 completed lines. The winnable values and conditions are the same except for revealing all values having 3 picks left, which quadruples the accumulated prize.


Road To Riches: given at 9 paylines, you have to spin the wheel and move along the pathway until you hit the 'collect' option. The maximum multiplier is x500.


Road To Riches Red: the award for clearing 10 lines. It works identically to its normal variation, but the prize is an x1000 multiplier.


Pot Of Gold: this is the grandest possible prize, awarded with a full-house completion. The one landing above the arrow offers that respective multiplier among the spinning pots.


SlotsCalendar tips: although these features have good scaling with each completed line, we recommend you settle for the bonus you've already landed rather than overspending on extra spins.
RTP & Volatility
The slot machine operates with medium volatility, which ensures relatively consistent winnings and has the potential for very generous prizes. The Slingo Rainbow Riches RTP sits at 95.6%, a figure very close to an industry average of 96%. As we've mentioned, this title has a good gaming balance.
An important factor to consider is a theoretical RTP of 94.92%, available only during the extra spin option.
Symbols
Considering we're dealing with a special game type, the symbol collection is also different to other slots.
The main type of symbol is numbers. They are the ones who are present on the grid and that need to match to form paylines. These numbers are extracted from red spheres, juggled right next to the grid.
This title also has regular Wild symbols, namely the Joker and Super Joker. The regular Joker lets you substitute a number on the same reel as this symbol, while the Super Joker substitutes any number you pick from the playing grid. Another symbol appearing regularly is the Devil, which simply blocks a number.
Each bonus round has a representative symbol, such as the well, the mushroom, the leprechaun and the gold pot.
How to play Slingo Rainbow Riches
To enter this mystical realm, you need to start the game and read the basic instructions that the slot offers at the start, then press 'OK' to proceed to Slingo Rainbow Riches free play.
The screen features the playing field in the middle, with a bonus indicator on the left. Below this bonus table, you will find the betting modifier.
The 'START GAME' button is in the bottom-right corner, which you'll need to press to begin the fun. Right above it, you see how many spins you have left.
The menu button on the upper side, marked with 3 horizontal lines, lets you access the sound settings, the 'HELP' and the 'PLAY CONTROLS' sections. You'll find all the necessary details there.
A very commendable function is the 'PLAY CONTROLS' feature, which lets you set boundaries for your gaming experience. You can limit these extra spins, which can become pretty expensive, including how many you receive and the maximum price they require. Stakes and losses in a single round have limiters too.
Each spin gives you 5 numbers that have to match with those coloured purple. When landing a Wild, pick a grid number to replace, according to the Joker type. Except for the occasional free spin, you have 10 chances to complete as many paylines as possible, so select the numbers strategically when given a Joker.
SlotsCalendar tips: the extra spin feature is a good opportunity when you're closing in on a big bonus round, but it can turn really costly. The SlotsCalendar team encourages you to customise your play controls and ensure a preventive gaming experience.
Best Casinos to play Slingo Rainbow Riches Slot with Real Money
If you're ready for an even more exhilarating time, consider trying the Slingo Rainbow Riches slot machine real money! Our expert team formed a list featuring only the best and safest casinos! They have spotless licensing, extensive game collections, plentiful bonuses and accommodating customer support, ensuring you have a wonderful time in a safe space. Take a chance with any of these casinos and redeem a Slingo Rainbow Riches bonus!
Slingo Rainbow Riches Free Spins and Bonus Offers
Increase your winning opportunities and try any of our fantastic bonuses! The SlotsCalendar team offers its visitors various offers such as cashback, free money, welcome and reload bonuses and even Slingo Rainbow Riches free spins!
Slingo Rainbow Riches Compared to Other Slingo Slots
| | | | |
| --- | --- | --- | --- |
| | Slingo Rainbow Riches | Slingo Starburst | Slingo Reel King |
| RTP | 95.6% | 96.5% | 95% |
| Progressive  | ❌ | ❌ | ❌ |
| Volatility | Medium | Low-Medium | Low-Medium |
| Max Wager | 100 | 100 | 25 |
| Wilds | ✔️ | ✔️ | ✔️ |
| Scatters | ❌ | ❌ | ❌ |
| Autoplay | ❌ | ✔️ | ✔️ |
| Ways to win  | 12 | 12 | 12 |
SlotsCalendar Verdict
Hits
various bonus features
decent betting flexibility
play controls
Misses