Wheel of Steal Review
Well, this is a one in a million show for the slots industry! The Wheel of Steal demo game is not your conventional slot, but a live competition with a great host, a glamorous setting, and some exciting surprises. We have to inspect this stage!
Theme & Graphics 
With this theme, you will be projected in a TV competition. During this show, a funny host that will discuss the course of the competition will accompany you!
The visual composition portrays a glamorous and vibrant setting. We're dealing with a truly entertaining setting and atmosphere for a slot, so Wheel of Steal knows perfectly how to surprise you!

If you want to explore more video games provided by Spearhead Studios, we can offer you these suggestions: Sweet Gems and Knights of Fortune.
Wheel of Steal RTP & Volatility
Wheel of Steal RTP presents a value of 98%, which is pretty big compared to the majority. We do not have a level for the volatility but expect a highly volatile game because with this RTP the prizes can have higher values, so the chances of hitting one may be seldom.
If you want to play it with real money, we highly advise you to take care of your budget and play responsibly. Do not forget that a great session of entertainment can be achieved if you play this game in free mode!
Wheel of Steal Symbols
The Wheel of Steal online slot doesn't present a standard range of symbols. It's a distinctive creation in which you will not see reels, rows or paylines. When it comes to symbols, this slot presents a series of colourful gems. The play screen is reserved for the groups of gems with a bet and an autoplay option, you just have to set your bets and watch the wheel spinning.
Wheel of Steal Bonus Features
As we've mentioned previously, this slot presents itself as a distinctive and interactive slot that doesn't compare to the previous casino games. You will not encounter regular bonus features or standard bonus symbols, but the interactive layer may be taken as an addition. In this competition you can play by yourself, or bring your friends, it doesn't matter, the entertainment will be there. 
How to Play Wheel of Steal
You will not see a regular playground with reels, rows and paylines, but a wheel with distinctive gems and attached values. You will see the same gems with bets in front of you.
You'll be projected in the middle of a competition show, and five groups of bets will be present. You'll have to work with these groups, betting on different gems, or betting on the lock. You can set a regular bet value, or opt for the autoplay option, but you have to act quickly.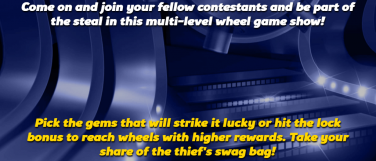 From this point, after setting your bet, you will watch the wheel spinning and the host analyzing the competition and announcing the winner.
Wheel of Steal Big Win
You can always indulge in a funtastic session of entertainment in free play mode, without high hopes in the winning department, but if you are curious about the value of the highest prize, know that it goes up to 10000x of the initial bet.
Verdict
The show is off, but the experience was thrilling. With this multiplier game, you can gather your friends and give it a try in free play for a short but fulfilling break. It's not a typical slot, but a creation with a great potential, and it has the capacity to raise the standard for the following slots, so The Wheel of Steal deserves a 10 out of 10. 
Wheel of Steal Free Spins No Deposit Bonus Offers
If you want to conquer this stage, you can opt for the demo version, or for a thrilling experience, you may want to look for the Wheel of Steal free spins no deposit bonus offers provided by premium online casinos.
Some players may want to fly high and conquer the scene, others may wish to remain with their feet on the ground. The interstellar collection of free slots available on SlotsCalendar fits an interstellar range of preferences.
Remember that you need an account on SlotsCalendar to indulge in the newest free slots and if you want to mix a slot with a special bonus, t&cs will apply for any selected offer.